Sometimes making design decisions can be complicated but having a great selection of material is necessary to find the best fit. Let's consider landscaping with mulch and bark to narrow down our choices. There are plenty of mulch and bark options to suit your landscaping needs and style at Paradise Landscaping Centers. Selecting the right mulch is about finding the right fit for the location and use. Some people may need mulch for playgrounds or others may look for mulch to cut down on landscaping maintenance. When deciding on which type of landscaping mulch and bark to select consider four attributes: use, location, maintenance, and style to make the best decision for your home or commercial property.
Brown Dye Mulch
Brown Dye Mulch is mulch that has been treated with organic dye and is fade resistant. Selecting this landscaping mulch has benefits of being fade resistant and great contrast to vibrant plants in the space. Brown Dye Mulch is complementary to nearly every residential landscape, so it's worth selecting.
Black Dye Mulch

Dyed Mulch is exactly the right balance of cool and reasonable. The Black Dye Mulch is a great background for vibrant desert plants, as the two contrast for an effortless and modern look in your front or backyard.
Medium Nugget Decorative Premium Bark
Medium Nugget Decorative premium bark is a great option for planters that want to keep their plants warm during winters and cool during hot summers. This decorative bark is great for plant insolation. When it comes to landscaping, a lot of decisions come down to practicality, so selecting the right bark or mulch may extend your plants and flowers lifespan.
Red Dyed Chips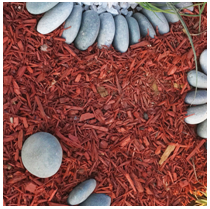 A fan favorite is Red Dyed Chips, because not only are they visually pleasing but extremely durable. The color takes years to fade and still looks stunning. Red Dyed Chips are a sturdy selection for harsh weather types, as they won't go flying in the wind every day.
Walk-On Bark
For families that spend a lot of time outdoors Walk-On Bark is an excellent addition for pets and kids to play on. The Walk-On Bark is understated and durable for use. As well as a good option for people that entertain and don't want to worry about their guests going barefoot in the backyard. Walk-On Bark is kid-friendly and pet safe.
Large Nugget Premium Decorative Natural Bark
For commercial locations that experience a lot of foot traffic, Large Nugget Premium Decorative Natural Bark is an excellent option for maintaining a well-groomed landscape exterior. The large nugget is durable and heavy to withstand disruption while keeping its shape and natural appearance. A bonus to the large nugget bark is slower decomposition over time, so consider that for high-volume traffic locations in commercial or residential landscapes.
Forest Floor Mulch
Consider design your landscape to match the great forest? Well, look no further than adding forest floor mulch. A great option for playgrounds for its softer feel and appearance. It makes a great addition with the trees in your backyard. All that is needed is two to four inches for easy maintenance.
If you need help deciding which mulch suits your needs, consider visiting your local landscaping center. Experts are available to answer your questions and calm your concerns. At Paradise Landscape Centers we have a great selection of premium bark and mulch at competitive rates and delivery services. Take your time, we're open seven days a week at 42201 Division St. Lancaster, CA. Our services are available to the Antelope Valley, Santa Clarita, and San Fernando Valley. Give us a call at 661-878-8886.